Biggest honours study association in the Netherlands
Global thinkers. Engaged leaders. Investing in knowledge.
Extensus is the study association for Honours students of all three universities in Amsterdam: VU Amsterdam, the University of Amsterdam (UvA) and Amsterdam University College (AUC). With a vast increase of members each year, Extensus is building a valuable network of Honours students of all disciplines. By organizing social, professional and academic events, Extensus aims to be a valuable extension of the Honours Programme for those students who want to look beyond the boundaries of a lecture room. Becoming a member of Extensus is an excellent way to get the most out of your Honours Programme. You can join our borrels, the study trip, career dinner, masterclasses, social drinks and a lot more!
Extensus is the Study Association of the Honours Programme of VU, UvA and AUC. It came into existence as a student initiative in September 2009. Since then, we have been engaged in various efforts to have participants of the Amsterdam Honours Programme benefit more from being a part of this Amsterdam-wide community of high-achieving students. Initially only open to those honours students studying at VU, Extensus expanded to the UvA and AUC in 2011.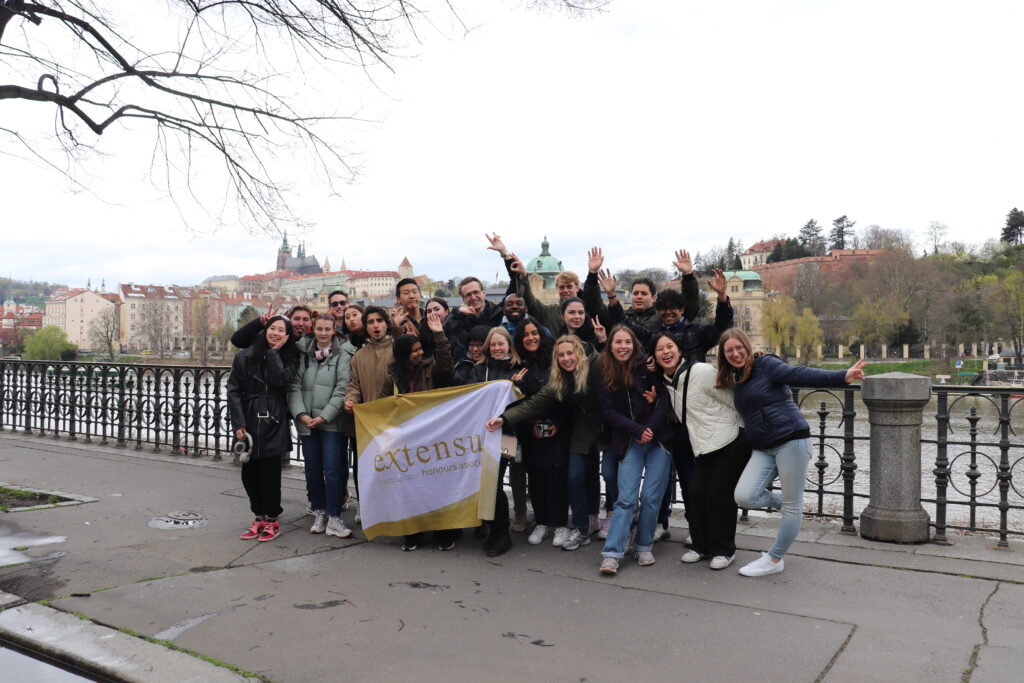 The aim of Extensus is to enhance the community of the Honours Programme by bringing together Honours students from all faculties and universities in Amsterdam. It does so by organizing professional, academic and social events, that are all aimed at the broad interests of the Honours students. Examples include study trips, career dinners and master classes.
The word extensus is derived from the verb extendere, meaning to stretch out, to extend, to increase, to broaden. It is also used poetically: maiores pennas nido extendere, to spread one's wings beyond the nest (adapted from Horace). The name of the study association symbolizes the two goals of the Honours Programme: to broaden students' horizons, and to extend their knowledge within their own field. It also alludes to the ambition, innovative spirit, and commitment to excellent education that is demonstrated by students and teachers involved in the Honours Programme.
So far, Extensus is thrilled to see the yearly increase in the number of Honours Students and their eagerness to contribute to a platform for excellence. Extensus justly considers itself to be the starting grid for future leaders and is dedicated to paving the way for collaboration between Honours students and their future employers from which both parties undoubtedly benefit. Extensus is always keen to welcome new members and Honours Students who wish to be involved in the organisation. Aspirations for the future are high, since Extensus aims to grow both in number and in substance, making full use of its interuniversity network and international orientation.


Why Extensus?
We bring together Honours students from all universities in Amsterdam to develop their professional and social skills beyond the lecture room.
Our students are curious, driven and ambitious. We enable them to learn more and to create a valuable network that will not only help them now but also in their future.
Through eight years of cooperation with market leading companies, Extensus has become a platform for our excellent students to reach out to businesses that inspire them. Today our alumni take up challenging roles across our partner companies and institutions.
What can Extensus mean for you?
Is your company interested in working with Extensus? To get in
touch with our talented members? Here are some examples of events we can organize together with you:
Inhouse days / Career dinner / Promotion / Social events
Our students…
Only the top 5% of the students in Amsterdam are eligible for the Honours Programme and can therefore join Extensus. Extensus has 450+ members.
Our students…
… have broad knowledge.
… are highly motivated.
… are internationally oriented.
… come from a wide variety of study programs.
… end up working for top companies with steep career paths.
Board of 2022-2023
Jialing Huang – President
Tomáš Kreuzinger – Vice President & Secretary
Shreya Shreemani Kumar – Treasurer
Maya Dong – PR Officer
Lara Asmus – Commercial Officer
Erik Schagen – Project Officer
Board of 2020-2021
Anel Hasic – President
Trin Sirivadhanakul – Vice President & Secretary
Jessica Meyer – Treasurer
Amy van Meeteren – Commercial Officer
Alessandra Gaia Saracini – Project Officer
Board of 2018-2019
Sebastiaan De Vries – President
Koen Donatz – Vice President & Secretary
Josephina Neess – Treasurer
Tom Niggebrugge – Project Officer
Merel Makkus – PR Officer
Daphne Pieterse – Commercial Officer
Board of 2016-2017
Felicia Ong – President
Thomas Bennis – Vice President & Secretary
Gillis Kruisselbrink – Treasurer
Urscha Fajdiga – PR Officer
Matthijs Eigenhuis – Commercial Officer
Board of 2014-2015
Maartje ter Hoeve – President
Mees Vergouwen – Vice President & Secretary
Ruben Stukart – Treasurer
Ciska Taal – Project Officer
Errol Verwey – PR Officer
Nathalie Smit – Commercial Officer
Board of 2012-2013
Guy Wijnen – President
Niko Schindler – Vice President & Secretary
Ada Sneekes – Treasurer
Danielle Schuitemaker – Project Officer
Eline Schaart – PR Officer
Sherida Sille – Commercial Officer
Board of 2010-2011
Aileen Nederlof – President
Rory Deen – Vice President & Secretary
Dajana Zubrinic – Treasurer
Board of 2021-2022
Nina Fischer – President
Sanne Goedhart – Vice President & Secretary
Kristina Veljkovic – Treasurer
Preyanha Hemakanthan – PR Officer
Karolin Wald – Commercial Officer
Aaron Jacobs – Project Officer
Board of 2019-2020
Lara Valent – President
Vongai Batidzirai – Vice President & Secretary
Eva Bergsma – Treasurer
Naina Parasher – PR Officer
Rosalie de Kerf – Commercial Officer
Thomas Litan – Project Officer
Board of 2017-2018
Anna Kostiouk – President
Jo-Anne Kramer – Vice President & Secretary
Jakob Hagenberg – Treasurer
Aukje Terpstra – Project Officer
Femke Jansen – PR Officer
Daniel Osterwald – Commercial Officer
Board of 2015-2016
Aniek Broekhuizen – President
Miranda Huang – Vice President & Secretary
Tim Everaert – Treasurer
Yvonne Melcherts – Project Officer
Dora Knezevic – PR Officer
Lisa Tenge – Commercial Officer
Board of 2013-2014
Floris Busscher – President
Harleen Rai – Vice President & Secretary
Wouter Griffioen – Treasurer
Danique Wildschut – Project Officer
Rachelle Meijers – PR Officer
Jorn Koch – Commercial Officer
Board of 2011-2012
Leander Peters – President
Lisa Aarsman – Vice President & Secretary
Sem Aronson – Treasurer
Marijn Jonkhart – Project Officer
Emilie Holtbach – PR Officer
Founding Board of 2009-2010
Winnie van Dijk
Lars Jongerius
Copyright © 2023 BaasDevelopment